Process Engineer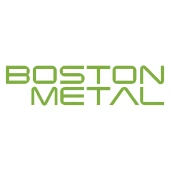 Boston Metal
Woburn, MA, USA
Posted on Tuesday, October 24, 2023
Boston Metal is commercializing cutting edge extractive metallurgy technology that will revolutionize primary metals production by improving metal quality while decreasing cost and lowering environmental impact. This fast-paced startup company is looking for a Process Engineer to join the Plant Engineering team. The Plant Engineering team is responsible for optimizing existing metals production processes, developing new processes, and ensuring the highest level of safety and quality in all aspects of production.
Boston Metal is looking for a versatile Process Engineer with hands-on experience designing, troubleshooting, and otherwise supporting plant operations. Duties will include developing standard process engineering deliverables (process flow diagrams, heat and material balances, P&IDs, equipment lists, hazard analysis, etc.) and working with multidisciplinary teams that are focused on the design and operation of facilities and plants that process and produce metals and metal alloys.
Required Experience and Skills:
Bachelor's or Master's degree in Chemical Engineering or a related field. Mechanical Engineering may be possible with relevant undergraduate coursework and experience.
3-5+ years of experience as a process engineer in an industrial or commercial scale metals/chemical manufacturing or production environment.
Strong understanding of chemical engineering and process engineering fundamentals
Strong analytical and problem solving skills
Proficiency in process simulation software and data analysis tools (Pro II, Aspen HYSYS)
Excellent written and verbal communication skills
Ability to work independently and in teams, especially multidisciplinary teams
Knowledge of safety and environmental regulations in metals, chemicals, or similar process industry
Project management skills and the ability to manage multiple projects simultaneously
Desired Skills & Experience:
Process engineering/technical support to operations experience in the chemicals or oil & gas industries
Experience interfacing with EPC/Ms
Experience facilitating HAZOPs and/or PHAs
Experience working with metals, especially at high temperatures
Experience working in a startup-like environment
Additional Information:
You will be working in a small team environment where teamwork and good relationships with other team members is critical. We routinely wear Personal Protection Equipment (PPE) and you should be prepared to do so as well.
We offer a full benefits package including health, dental, life and disability insurance, paid vacation & holidays, company contributed health savings account, and a 401k with company matching provision.
Boston Metal is an equal opportunity employer. All qualified applicants will be considered for employment without regard to race, color, religion, national origin, age, sex, gender identity, sexual orientation, pregnancy or pregnancy-related condition, disability, ancestry, genetic information, veteran or military status, or any other characteristics protected by applicable federal, state or local law.