Instrument & Controls Engineer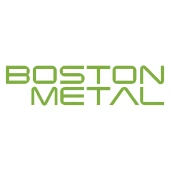 Boston Metal
Other Engineering
Woburn, MA, USA
Posted on Tuesday, October 24, 2023
Boston Metal seeks an Instrumentation and Controls Engineer to facilitate development of new high temperature electrolysis systems for the production of tonnage molten metals and alloys.
You will work with other members of our systems and controls engineering team, to manage and improve existing industrial instrumentation, control systems, piping and instrumentation diagrams (P&ID's) as well as wiring diagrams.
Duties:
Control system cabinets design, component specification and procurement.
Piping and instrumentation diagrams (P&IDs), network and wiring diagrams development and maintenance.
Control system instrumentation selection, specification and procurement.
Low voltage control system electrical wiring (thermocouples, analog and digital IO, network, <=120 VAC).
Participate in initial system conceptual development and carefully balance specifications, process requirements, layout complexity, cost, and lead-time limits.
Work with cross-functional teams throughout the entire development cycle of new systems.
Control system and instrumentation commissioning and troubleshooting.
Experience and skills:
B.S. or M.S. in Electrical Engineering or similar and 2+ years of professional work experience.
Experience with industrial automation hardware, PLCs, VFDs, analog and digital IO, industrial protocols (OPC-UA, Profinet, Powerlink, etc.)
Experience with low voltage wiring (24 VDC, <= 120 VAC) and electrical troubleshooting skills.
Experience with 2D CAD software, control system cabinet design, P&IDs and wiring diagram development, familiarity with UL508A is a plus.
Familiarity with B&R industrial automation is not required but a strong plus.
Must have 'startup attitude': thrive in small teams, self-motivated, quick learner, passionate, nimble and adaptable.
Additional Information:
You will be working in a small team environment where teamwork and good relationships with other team members is critical. We operate pilot plants and labs and many of our staff members are required to wear Personal Protection Equipment (PPE) and you should be prepared to do so as well when necessary.
We offer a full benefits package including health, dental, vision, life and disability insurance, paid vacation, sick & holidays, and a 401k with company matching provision.
Boston Metal is an equal opportunity employer. All qualified applicants will be considered for employment without regard to race, color, religion, national origin, age, sex, gender identity, sexual orientation, pregnancy or pregnancy-related condition, disability, ancestry, genetic information, veteran or military status, or any other characteristics protected by applicable federal, state or local law.