R&D Data Scientist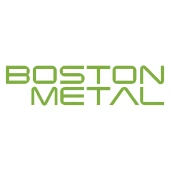 Boston Metal
Data Science
Woburn, MA, USA
Posted on Sunday, November 5, 2023
Boston Metal is seeking a R&D Data Scientist facilitate the development of our Molten Oxide Electrolysis (MOE) platform to revolutionize the millennia-old steel industry, while staying cost-competitive with no greenhouse-gas emissions.
You will work closely with our R&D team to plan experiments, process, analyze, and interpret chemical and electrochemical data acquired from our pilot scale systems. Additional responsibilities include devising new experiments based upon findings, interacting with operators for process development, and communicating findings to the various teams and management.
Desired Experience & Skills:
B.S., with 7+ years of work experience, M.S., with 5+ years of work experience, or Ph.D. with 2+ years of work experience in Electrochemistry, Chemical Engineering, Materials Science, Metallurgical Engineering, Chemistry, or similar
Experience with planning and implementing a detailed research program
Experience with statistical techniques such as propagation of uncertainty, statistical significance testing, design of experiments.
Familiarity with chemical engineering principles (e.g., mass and energy balances, thermodynamics, transport phenomena)
Familiarity with electrochemistry principles (e.g., charge transfer, Current-Voltage relationships)
Experience in using MATLAB, Python, or other graphical plotting software for data analysis and visualization
Experience in signal processing to filter raw data, identify outliers, determine trends
Experience with linear and nonlinear multivariable regression analysis preferred
Experience with time series analysis and regression (e.g., ARIMA, state space representations, transfer functions) preferred
Must embrace the "start-up mindset", thrive in small teams, self-motivated, quick learner, passionate, agile, and adaptable
Additional Information:
You will be working in a small team environment where teamwork and good relationships with other team members is critical. Many of our staff members are required to wear Personal Protection Equipment (PPE) and you should be prepared to do so as well when necessary.
We offer a full benefits package including health, dental, vision, life and disability insurance, paid vacation, sick time & holidays, and a 401k with company matching provision.
Boston Metal is an equal opportunity employer. All qualified applicants will be considered for employment without regard to race, color, religion, national origin, age, sex, gender identity, sexual orientation, pregnancy or pregnancy related condition, genetic information, ancestry, disability, veteran or military status or any other characteristics protected by applicable federal, state or local law.
Please provide resume if interested.