Operations Engineer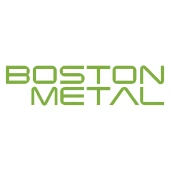 Boston Metal
Operations
Woburn, MA, USA
Posted on Sunday, November 5, 2023
Boston Metal is commercializing a cutting edge extractive metallurgy technology to revolutionize primary metals production by improving metal quality while decreasing cost and lowering environmental impact. This fast-paced startup company is expanding its Operations team to help develop and run its Molten Oxide Electrolysis (MOE) cells for the production of molten metal.
Responsibilities for this position will be to support general engineering activities associated with balance of plant development, supervise and assist in shift activities which will include monitoring MOE cells, withdrawing molten metal and slag samples from the cells at regular intervals as well as supporting tapping and feeding operations. Additional duties may include assisting in cell rebuilding and commissioning.
Desired Experience and Skills:
BS Degree from an accredited university or college in Mechanical or Chemical Engineering with specific focus in machine design, materials science, process engineering or chemistry coursework.
Computer Aided Design (CAD) – Solidworks preferred
CAD and PDM administration – Solidworks preferred
Mechanical/Machine Design coursework
Materials Science coursework
Experience working in small teams & start-up atmosphere
Technical Drawings & Diagrams: Parts, Electrical Diagrams, P&ID's
Work Schedule:
"6-4" Shift Pattern
1st Shift 7:00am to 5:00pm
2nd Shift 3:00pm to 1:00am
3rd Shift 11:00pm to 9:00am
You would work 6 consecutive days 10hrs per day followed by 4 days off. At the end of the 4 day off period your shift would move to the next shift time (i.e. 1st shift to 2nd shift, 2nd shift to 3rd shift and 3rd shift to 1st shift). Shift differentials are paid for 2nd (5%) & 3rd (10%) shifts.
Physical Demands:
The employee must be able to wear Personal Protection Equipment (PPE) as required by the specific work activity which may include: N95 mask or respirator; various types of gloves/hand protection; safety shoes; head protection; and protective clothing.
While performing the duties of this job, the employee is regularly required to use his or her hands to finger, handle, or feel; reach with hands and arms; and talk or hear.
The employee is frequently required to stand, walk, and sit without additional assistance.
The employee is occasionally required to stoop or crouch.
The employee must occasionally lift and/or move up to 55 pounds.
Specific vision abilities required by this job include close vision, color vision, depth perception, and ability to adjust focus.
Work Environment:
While performing the duties of this job, the employee has potential for exposure to hazardous chemicals and/or hazardous waste, and occasional exposure to moving equipment, the risks of which are minimized through compliance with established safety policies and procedures. The noise level in the work environment is usually moderate.
Additional Information:
You will be working in a small team environment where teamwork and good relationships with other team members is critical.
We offer a full benefits package including health, dental, vision, life and disability insurance, paid vacation, sick time & holidays, and a 401k with company matching provision.
Boston Metal is an equal opportunity employer. All qualified applicants will be considered for employment without regard to race, color, religion, national origin, age, sex, gender identity, sexual orientation, pregnancy or pregnancy-related condition, disability, ancestry, genetic information, veteran or military status, or any other characteristics protected by applicable federal, state or local law.
Please provide resume and cover letter if interested.